What if there was a way to get your law firm "Google Guaranteed" at the very top of Google SERPs? Now there is. The Google Guarantee badge is available for businesses that pass a Google screening and qualification process through Google Local Services ads. Google Local Services ads are designed to help lawyers connect with potential customers.
With Local Services ads, lawyers can advertise their law firms on Google and receive inquiries from searchers directly. These leads come in as phone calls and messages sent through your Local Services ad. Lawyers can reply to messages, track bookings, and manage all leads anytime online, as well as, through the app.
Historically, this ad type was reserved for a limited number of service categories (i.e. home services providers, pest control, garage door installation, appliance repairs, lawn care, etc). Now it looks like Google is poised to expand this ad platform to a much larger number of local business service providers.
For law firm business owners, and other eligible local business service provider categories (locksmiths, plumbers, roofers, HVAC, electricians, etc), Google Local Service Ads will be a major game changer in the paid search (Google Ads, AdWords, PPC, search ads) arena. We strongly encourage you to explore how Google Local Services ads fit into your larger digital marketing strategy.
Benefits of Google Local Services ads for Lawyers
As you can see from the image at the top of this post, Google Local Services Ads listings appear at the very top of relevant Google search results. Above traditional Google Ads. And way above (that's a technical term) Google My Business local pack ads and organic results (SEO). Furthermore, these ads come with the Google Guarantee or Google Screened designations.
Perhaps one of the greatest benefits is that lawyers can pay-per-lead instead of paying per click. This is particularly beneficial for legal services advertisers. If you've been using Google Ads (AdWords) for many years, you know that PPC costs per click are getting unsustainable. This is one way Google is looking to encourage more advertisers to engage its advertising platform.
How Legal Service Providers Qualify for Google's Local Service ads
Google requires law firms advertising on the Local Service ads platforms to pass a variety of screening requirements. As you might suspect, the screening process varies by the type of service, as well as, the location. Typically, the process includes background checks, verification of insurance or licenses to the extent permitted by applicable law.
At the time of writing (11/18/2019), there are really only two practice areas eligible for Legal Services Ads:
Estate Lawyer
Immigration Law
You can review the specific vetting requirements for each of these categories below.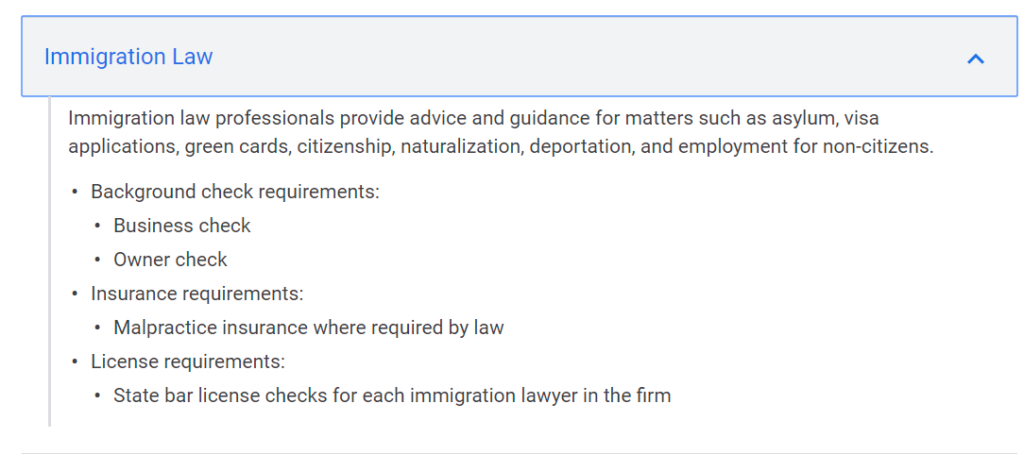 Managing Potential Client Inquiries from Google Local Services Ads
When potential clients perform a local search and are shown your firm's Google Local Services Ad, they are provided with the option of initiating a phone call via a phone number in the ad (Google forwarding number on your ad, or sending a text message request).
If you choose to manage potential clients via the Local Services Ads app, you can review records of your potential client inquiries, as well as, contact them, book consultations, and receive consultation reminders.
Maximizing Performance of Your Law Firm's Google Local Services Ads
In our experience, the performance of your Local Service ads will depend largely on your ability to optimize your ads. First, like other listings of this nature, it's essential that you have a competitive number of reviews. What's the right number? More quality reviews than competitors in your service area. After all, this will be a significant factor in a potential client's assessment of your firm. Next, be sure to consider your potential customer's locations. Lawyers tend to misunderstand the importance of proximity to legal services consumers. Trying to advertise local service ads to potential clients that are outside your local service area tends to crush conversion rate. Finally, be sure to maximize your open business hours. I can't tell you how many times I see law firms paying to advertise that their office is closed. This is a significant source of wasted digital marketing ad spend.
Here is an example of the results from clicking-into a Legal Local Services Ad listing:
As you can see, reviews, location, and business hours will play a large role in whether your ad generations a qualified lead.
As we move into a voice search future, Local Service Ads are likely to command an increasing share of voice. Your next clients will expect to be able to find you, vet you, and book an appointment with you all by speaking to a voice-enabled device, like a Google Assistant. If you aren't preparing for this inevitability, you will lose potential clients to your competition.
I expect this to be one of the most significant trends in local search advertising over the next few years. Don't get left behind.